In the early 1940's, John G. Dramm (Johnny) saw a problem and developed a solution that would become the cornerstone of Dramm. Wanting an easier, less damaging way to water his flowers, Johnny created the Water Breaker 400. After sharing his invention with fellow growers, demand rose and the Dramm Corporation was born.
Johnny continued to grow the company until he passed away far too young. He left the company to his wife, Perdita and their sons, John and Kurt. Unfortunately, John followed in his father's foot steps and passed away very young, leaving the business to Kurt.
After years of continued growth and innovation, Kurt added fish fertilizer to the Dramm line up and Drammatic Organic Fertilizer was developed in 1997.
For years, Kurt Dramm kept his father and brother's dream alive and grew the business to the most respected name in the horticulture industry.
In 2023, Kurt Dramm passed away. He left his children, Hans Dramm and Heidi Dramm Becker, to continue the innovation and commitment to quality that is the hallmark of the Dramm name.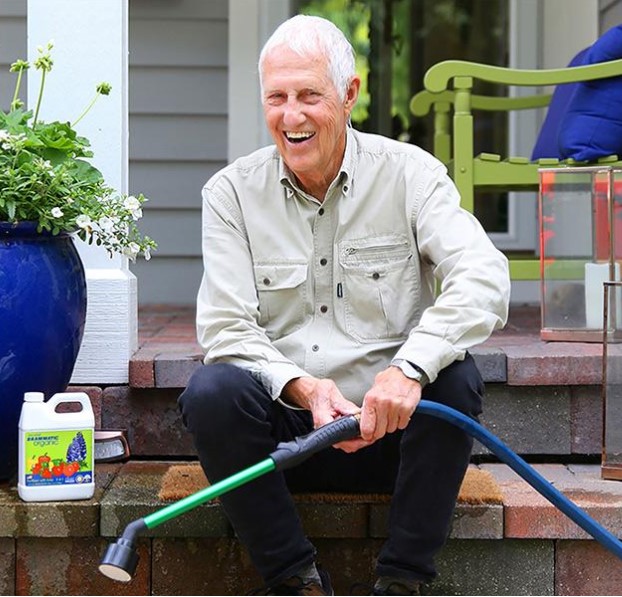 Why Drammatic Fertilizers
At Dramm, we recognize that nutrient rich, biologically active soil leads to healthy, nutrient dense crops. And nutrient dense crops help to make healthier humans.  Drammatic Fertilizers provide a wide array of micronutrients and microbial food sources.  We believe in thinking probiotically about your soil.  Feed the "good guy" beneficial microbes so they can outcompete the  "bad guy" pathogens and help make locked up nutrients in your soil available.  We believe this approach leads to long term improvement in your soil health that will benefit not only you, but future generations.
Our nutrient rich fertilizers are carefully crafted from wild fish scraps collected from the commercial and recreational fishing industry along the Great Lakes. Utilizing this potential waste stream, Dramm has turned a problem into a solution preventing millions of pounds of waste from entering landfills, water treatment centers and the Great Lakes themselves.
We Do Things a Little Differently
We produce our fertilizers from fresh fish scraps carefully processed at low temperatures to maintain the integrity of the naturally occurring amino acids, proteins and oils in the fish. Since 1999, Dramm has used this unique process to produce a product known as a "hydrolysate". This process ensures all the nutrients remain in the end product fertilizer.  This differs from the emulsion process which uses high heat and removes key nutrients during the manufacturing process.
Our easy to use hydrolysate is then double filtered through a 200 mesh screen before being packaged to the customers' specifications.